23 RV Products We Recommend
Since we started RVing in 2013, we've found some great products that make tiny living easier. Below you'll find links to the game-changers we always share with other RVers around the campfire.
---
RV Gadgets for Safety & Convenience | Kitchen | Storage | Household | RV Essentials | Water, Sewer & Tanks | Tools | Other | RV in Mexico | RV in Alaska | Referral Partner List
---
RV Gadgets
These gadgets make our lives easier and safer.
1. LevelMate Pro
This gadget makes choosing a site and leveling the coach a breeze. The Bluetooth app tells us exactly how much we need to raise each corner within 0.25″ of accuracy.
We purchased the LevelMate Pro after many years of RVing, it is not a necessity but definitely makes life easier.
Before we found the LevelMate Pro, one of us used a handheld level and checked multiple spots around the coach to determine necessary adjustments for the other person to make. Then we'd open and close cabinet doors to see if everything felt level. It was a frustrating process. With the LevelMate Pro, one person can do everything from the driver's seat.
2. Tire Pressure Monitoring System
A tire pressure monitoring system is a safety gadget that monitors tire pressure and temperature. It alerts the driver when blowout conditions exist. We paid retail price for a Truck Systems Technologies TPMS system and would recommend it.
A TPMS is not cheap but it provides peace of mind for us. A blowout can cause accidents and property damage so we think it's worth the initial cost.
---
RV Kitchen and Cooking
We cook most meals at home and have perfected our tiny kitchen setup.
3. Induction Cooktop
We use our solar panels and lithium batteries to cook using induction. We love induction cooking.
Water boils twice as fast on induction than it does on propane.
Additionally, induction cooking doesn't heat up the whole kitchen like the open flame on a propane stove.
After several years of loving to cook with this countertop induction, we removed our coach's original propane cooktop and installed a similar built-in induction range.
4. Stackable Pans with Removable Handles
We love these stackable pots and pans with removable handles. They nest together perfectly and only take up the footprint of the largest pan.
We bought ours in 2017 and have used them daily ever since. The pans are in great shape. Our handles are starting to stick and wear out. We purchased spare handles online but haven't started using them yet.
5. Pressure Cooker & Air Fryer
I know this is a behemoth in a tiny kitchen but I love cooking with it.
We originally had an InstantPot but upgraded to the Ninja Foodi to get air fryer and pressure cooker functions in one appliance. Both are game-changers in the kitchen and I would recommend an air fryer and pressure cooker to all cooks.
Space is too limited in our RV for two big appliances.
Dual-purpose items usually require a few compromises. The Ninja Foodi air fryer lid is not removable and is annoying and bulky when pressure cooking. And it doesn't have a yogurt-making function like InstantPot.
Scroll down to Storage for the ottoman that does double duty. It perfectly stores my Foodi while functioning as a living room ottoman.
6. Silicone Baking Pans
These are not the exact silicone baking pans I have because I bought mine more than 10 years ago.
I use silicone pans to bake everything. They are perfect for RV and tiny living. They weigh next to nothing and can fit almost anywhere.
Don't worry about storing them flat. I fold and bend mine to fit in voids around other items in storage bins under my kitchen sink. 10 years later and they still look new. Don't use sharp utensils because the silicone is easy to puncture or slice accidentally.
7. Dish Pan
We use a dishpan to conserve water and tank space when boondocking. Honestly, any container will work but this one has a built-in drain.
8. Handheld Pasta Strainer
Flat lightweight tools are perfect for RV living.
We use a handheld strainer like this to drain liquids from pasta, veggies, and more. It does require a bit of upper body strength to hold a full pot. This is a set of two for under $10.
9. Space Saving Cheese Grater
After discovering all of the non-food additives in shredded cheese, we decided to shred our own cheese. A block of cheese can be used for slices, cubes or shreds and takes up less precious fridge space. We use a cheese grater similar to this one. It can be held vertically or placed horizontally over a bowl.
10. Handheld Juicer
We have a plastic version of this handheld juicer/reamer. It's great for juicing citrus into recipes. We eat a lot of guacamole and fresh lime juice makes it so much better.
I've found this reamer style of juicer produces a lot more juice than our old fold-over squeeze type of juicer.
---
Storage Solutions
Living in a tiny space means being strategic about storage. Here are a few of our favorite things.
11. Folding Ottoman
A folding 15″ storage ottoman is the perfect size to store the Ninja Foodi air fryer pressure cooker combo. It doubles as a coffee table and footrest in our RV living room.
12. Command Hooks
I use command hooks for everything. These tiny clear ones are my go-to choice but I have at least five different varieties around the RV.
13. Fabric Storage Bins
We use fabric bins like these to keep our cabinets organized. Each RV cabinet has different dimensions so we have these bins in multiple sizes. They keep everything from canned foods to clothing in their place when we are driving.
---
Household
14. Cotton Bedsheets
These cotton bedsheets are not RV-specific but I really like them.
Our goal was to recreate a nice hotel bed at home. I love the feeling of crisp cotton sheets when I climb into bed.
These are soft but still crisp without breaking the bank. We've been using them for over a year. I have been pleased with the quality and price of these.
15. Dr Bronner's Castille Soap
We use Castille soap to wash our hands, bodies and hair. I love Dr Bronner's lavender scent. It also works great in place of shaving cream. Our shower products are very limited and this is a primary component.
I have used it as laundry soap and dish soap but find purpose-made products are better for those functions.
Castille soap does not contain chemicals to produce suds so it requires less water usage than other soaps. We love that it is also organic and will not harm plants or animals if discarded (where allowed) when boondocking.
16. Foaming Hand Soap
We use these refillable bottles to make our own foaming hand soap using Dr Bronner's Castille soap.
To make your own foaming handsoap, fill the bottle 1/3 full with liquid Castille soap and then top off with water.
Foaming handsoap needs less water to rinse your hands and is great for boondocking.
---
RV Essentials
17. Awning De-Flappers
These Camco awning de-flappers are great for breezy, sunny locations where you want to use your awning but don't want to hear it whipping in the wind.
They do add an extra step to the setup and breakdown of the awning but the peace and quiet are worth it for us. We've found it is easiest to attach them before extending the awning arms otherwise you'll need a ladder.
Water, Sewer and Tank Maintenance
18. Happy Camper
We have tried other RV toilet treatments and Happy Camper is our favorite.
It is made of natural enzymes, dissolves in water, and doesn't have any scent. Other brands rely on dangerous chemicals and perfumes to eliminate the odor but Happy Camper relies on a mineral and nutrients.
19. Water Bandit
We didn't have one of these for the first 9 years of RVing but honestly, it would have come in handy a few times. You know the RV water fills with the stripped threads or better yet no threads. This silicone sleeve fits over any water outlet to provide a secure connection for water fill. Worth a few bucks for the times you need it.
20. Portable Water Vessels
Having the ability to move water from the source to your rig can extend your boondocking stays even in dry campgrounds.
Due to the limited capacity of our tow vehicle, we personally use these 6-gallon jugs but love the portable bladder a lot of our RV buddies use.
Go here to read about how we used a bladder in Mexico to compensate for low water pressure.
They are both great options for refilling water tanks without moving your whole rig. For full details on conserving water check out 21 Best Tricks for Saving Water in an RV: Extend Boondocking Stays with Conservation.
21. RV Water Filters
We drink a lot of water and I can't imagine the quantity of bottled water we'd need to keep in stock without our water filtration system. Shortly after buying our motorhome in 2013, we installed a three-canister filtration system in our water bay from the RV Water Filter Store.
We've always been able to drink water from our storage tanks regardless of the source.
When we knew we were RVing to Mexico, we reached out to the RV Water Filter Store and they recommended their 0.2 micron Virus Hero filter. We drank the tap water for two months in Mexico without any problems.
The RV Water Filter Store has competitive pricing and great customer service.
Use coupon code 'Pippi15' for an extra 15% off current pricing on RVFilterStore.com
22. Acuva UV Water Purification System
The final step of our process is an under-sink Acuva 1.0 UV LED water purification system. The UV treatment ensures any bacteria in the water is killed before it goes into our drinking cups. It's instant pure water at the faucet and can be run on AC or DC power.
Use coupon code 'Trying to Unwind' for an extra 10% off current pricing on Acuva.com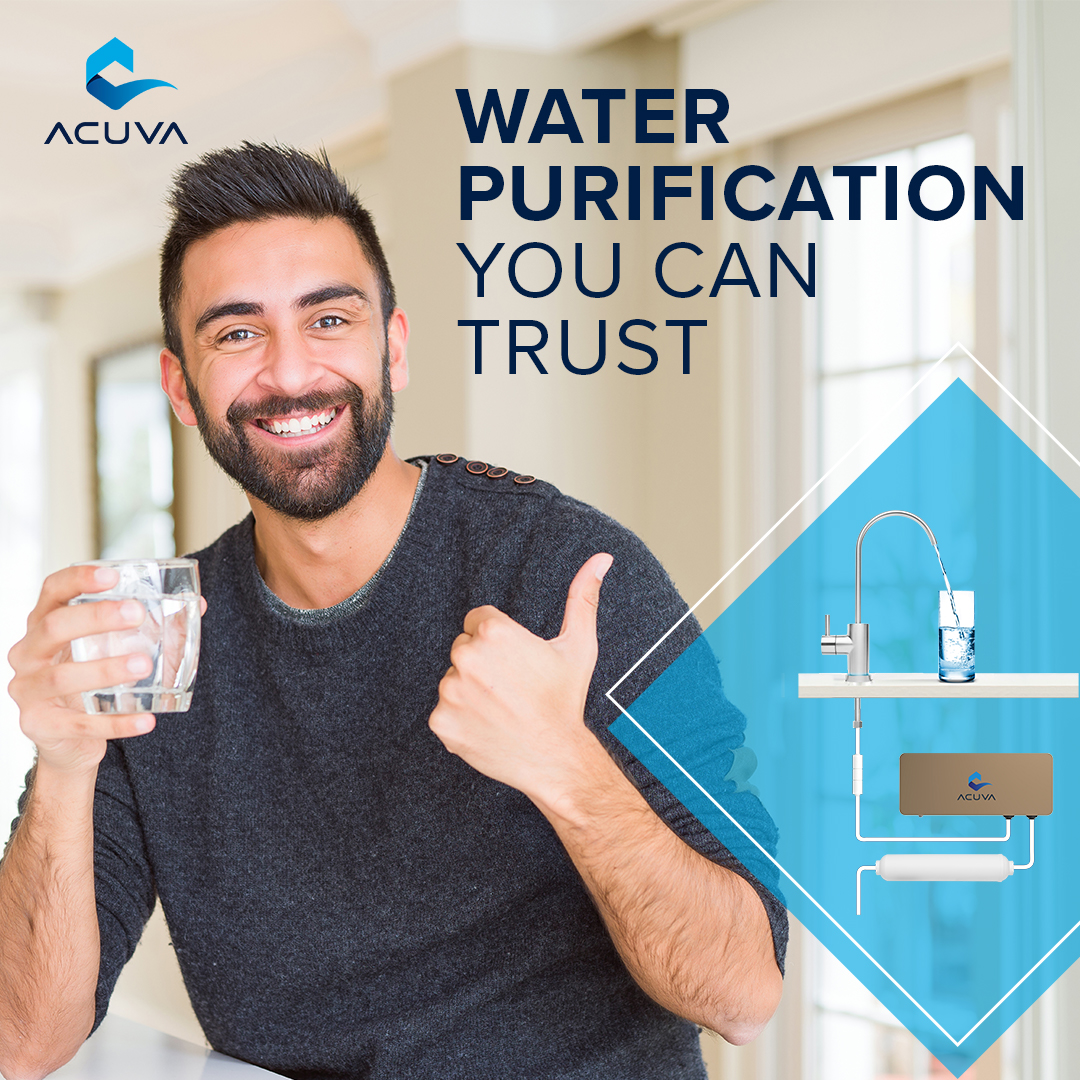 Banner – Acuva ArrowMax 2.0
https://www.acuvatech.com/?ref=TryingToUnwind&utm_source=affiliate
RV Tools
A large portion of our outdoor storage space is filled with tools. Being able to make repairs on the road make RV life much more affordable and manageable.
Electrical
Our 2000 American Tradition motorhome's electrical system has been fully updated. Here are a few of the items we've found useful.
23. Kilowatt Meter
This Kilowatt Meter is a great way to perform an energy audit on appliances. It measures the electrical usage of any device plugged into it. We performed a full energy audit to determine our usage needs when designing our solar and electrical systems upgrades.
RV in Mexico
We made a few purchases and wished we had a few things while RVing in Mexico. You can read all the details about our water setup that allowed us to drink Mexican tap water in our RV.
RV in Alaska
Here are the items we already have or will be purchasing for our Alaska RV adventure.
Referral Partners
TSD Logistics Diesel Fuel Savings Card
Our motorhome fuel tank capacity is 125 gallons so each fill-up makes a big dent in our budget.
We do everything we can to save money on fuel and maximize our budget. The TSD diesel fuel card is one of the many tools in our arsenal. Since the TSD card doesn't charge joining or membership fees (they keep a portion of the savings earned) we find it a no-risk way to save on RV diesel.
Check out The Best Diesel Fuel Card for RV Owners in 2022 for full details on the application process and an honest review of the cards pros and cons.
Gypsy Guides GPS based Audio Tours
I cannot imagine visiting a National Park without Gypsy Guide after our first experience at Yellowstone.
Gypsy is a GPS audio guide that educates and entertains visitors of all ages. Gypsy tells stories, gives directions, makes hiking and sightseeing recommendations and more for the most popular National Parks.
Most park tours are available for $10 or less and will save you a lot of wasted fuel and energy navigating the park.
We pay full price for the Gypsy Guide tours (no discounts or sponsorships) and LOVE them.
Escapees & Xscapers RV Club
Escapees and Xscapers are both parts of the same RV club.
It's a great resource for RV-related education and services. We have used Escapees mail service since 2017 and would recommend it.
Most of our RV friendships have been made through Xscapers and at their fun events.
Harvest Hosts and Boondockers Welcome
During our first year of full-time RV travel, we were Harvest Host members. We loved the ability to stay at farms, vineyards and more overnight. Most locations were destinations in and of themselves. And we made some great memories. I recommend every RV try Harvest Hosts at least once.
If you sign up for Harvest Hosts using our link, you'll get $15 off your first year of membership.
Currently, we have a Boondockers Welcome membership (same parent company as Harvest Hosts) which allows multiple night stays on private property.
Most properties are owned by fellow RVers and some even offer hookups.
We find Boondockers Welcome works better for our travel style than single-night stays at Harvest Hosts.
If you sign up for Boondockers Welcome using our referral link, you'll get $15 off your first year of membership.
Acuva Water Purification
We have an under sink mounted Acuva UV water treatment system. Thanks to this and our in-line water filters, we can safely drink our tap water regardless of the source. We even drank the water in Mexico.
Use coupon code "TryingToUnwind" for 10% off your entire Acuva order
RV Water Filter Store
We purchased our three-canister water filter system so we could safely drink our tap water. Combined with our Acuva UV water purification system, we can drink water from everywhere, even tap water in Mexico.
Use coupon code "pipp15" for 15% off your entire order on RVWaterFilterStore.com
Lion Lithium Battery
We purchased our Lion Lithium battery bank in 2018 (six batteries) as part of our solar upgrade project. After seeing other lithium brands advertising with all of the RV influencers, we were honestly turned off. Plus Lion Energy offered a superior product for a lower price point.
Since upgrading to solar and lithium, we've camped offgrid more often than not and we don't regret the investment for one minute. Otherwise, we would have missed the beachfront spots in Baja or the amazing National Forests near our National Parks.
Lion has a limited warranty on their batteries and we have had them replace a faulty battery years after purchase without any pushback.
Use our exclusive coupon code "kl" to apply 15% off your entire order on LionEnergy.com
Siteground Webhosting
This website is hosted by siteground. If you are interested in creating your own website, consider Siteground.
Their amazing customer service has bailed me out of bad situations on multiple occasions including restoring my site when I accidentally deleted it early on.
You'll get discounted rates below for using our referral link.